It's supposedly spring in Muskoka (forgetting about the brisk -22C outside this am!) and that means all sorts of goodness but for those of us who are particularly Lake Muskoka obsessed it rings the bell on yet another POTENTIAL flood season.  Many of you found me on Instagram or Facebook circa 2019 when my daily musings about flooding on social media became the most devastating of realities. While I seriously hope to all higher powers "they" learned and we never ever end up in that place again, we all came to learn that no matter who does what with the lake levels, the weatherman controls the wild card.  Expecting the unexpected is frankly to be expected, and once again cottagers it is time to tune in.  Here are the Muskoka flood facts as of March 29, 2022 (12 am)
Coles Notes:
Why Almost Every Lakefront Cottager in Muskoka Should Pay Attention 
Water in Muskoka =  connected.
Recall Lake Muskoka is the bathtub in the middle of Algonquin and Georgian Bay. The spring freshet from the North, South & Lower Muskoka watersheds all pass through and exit at Bala. With 2 entrances and 1 exit we don't simply stand a chance, and when the water has nowhere else to go Lake Muskoka backs up into Rosseau and Joe.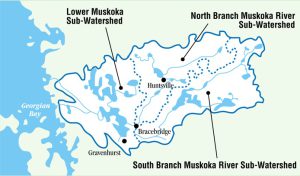 Who is Involved in Monitoring Water Levels? 
The MNRF ultimately controls the level in that they make the decisions and operate the dams remotely, but while everyone was quick to point fingers after the historic 2019 flood debacle, there is only so much they can do.  Mother Nature plays a huge roll in flooding and it's an ever changing and constant mystery/battle.  The issue is it's a fine science.  Just like any game of cards, there are odds and when you're battling Mother Nature you can only take so much risk.  The Muskoka River Water Management Plan [MRWMP] for establishing lake drawdown was updated in 2019/2020 and more info can be found here.  What has remained constant in the last 10 years is the Normal Operating Zone markers (those two red lines in the chart below mark the top and bottom).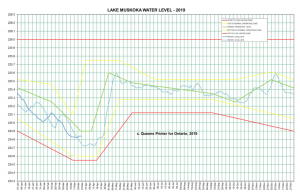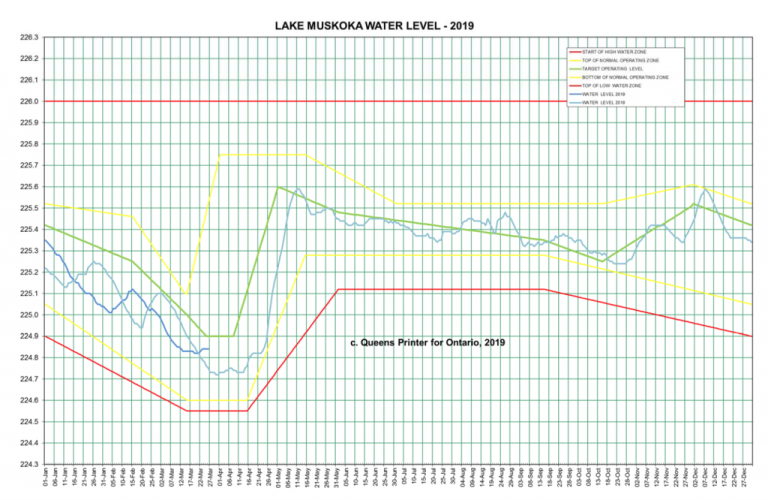 If the MNRF takes any more water out of Lake Muskoka then the red line dictates, the risk is that we'll all be complaining, not to mention be boating around hitting new rocks and islands all summer long.  Weigh the two weeks of high water and potential damage vs. an entire summer of low lake levels and I'm sure you can sympathize!
What is the Most Important Date of Flood Watch Each Spring?
March 15th!
The MNR controls the Lake Level using the following formula
If the snow water content is >25% above normal on March 15 on the North Branch of the Muskoka River, lakes controlled by MNR will be lowered to the bottom of the Normal Operating Zone (NOZ).
If snow pack water content is >50% above normal on March 15 on the South Branch of the Muskoka River, lakes controlled by MNR will be lowered to the bottom of the NOZ.
If snow pack water content is >100% above normal on April 1 on both branches of the Muskoka River, lakes controlled by MNR will be lowered to the bottom of the LOZ (red line).
Neither # 1 nor 2 of these snow conditions have been met in 2022. While the Upper Lakes have been drawn down to average or Target levels, Lake Muskoka has been drawn down well below Target level and near the bottom of the NOZ. Thus far the lake levels appear to be accommodating the Spring freshet, yeah!
The second most important date however, April 1st, ie #3, is yet to come.  Stay tuned 
When is their cause for concern?

 
When there is snow pack to the north.  Rain from above is one thing to predict but we can easily measure snow to the north and translate that into a water content equivalent. Snow measurements are taken every other week at four stations across the Muskoka River watershed, are summarized in Table 1 below.

This winter South Muskoka didn't have the crazy snow pack we normally have but they got it to the North. Combining the above averages out at 154mm. MNDMNRF rates this as just above normal compared to the average of previous years' snow for this date.
The red flag here is that historical comparison below shows this exceeds the snow water equivalent conditions in 2013 when flooding occurred as per Table 2 below.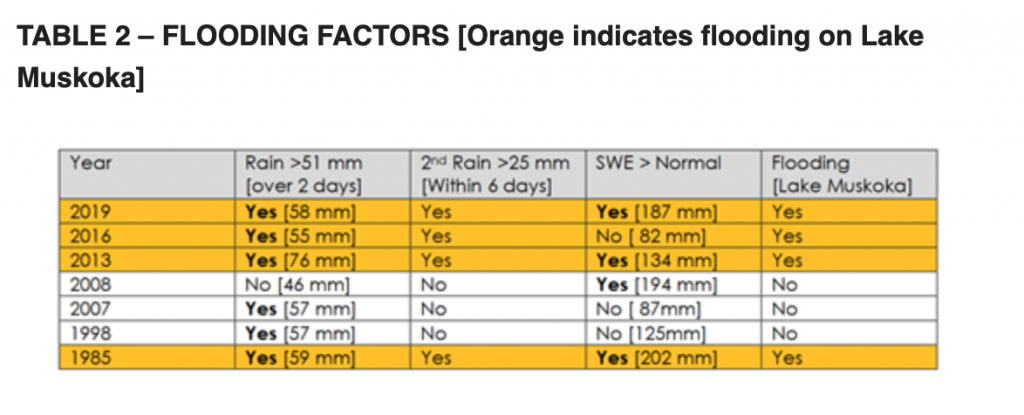 In 2013 Lake Muskoka flooded 1.5ft as opposed to the 4ft of 2019 so is seemingly forgotten but most and nothing comparatively, but should there be 1.5ft of water over your dock and wind pushing around ice shoves that still has the potential to wreak havoc.
Need I say cottagers should be paying attention … especially to the April 1 2022 reports.
What are the key metrics and dates?  
Ice out for Lake Muskoka over the last 100 years is historically April 21st; in 2021 the ice went out early.  I was skating on the lake March 16, 2021 and our first boat went in April 1st but didn't make it over to my island until the 10th.
The top of my island dock (which isn't a low dock) sits at 384″
Normal water levels for spring is around the 374″ mark; that's the level the Lake needs to return to before Marina's are able to safely start putting your boats in!

How are we doing on floodwatch 2022? 
The following graph is Lake Muskoka water levels from the lowest point on March 18, 2022 to March 29, 2022 (12am)

As of now (ie 12am March 29, 2022) Lake Muskoka water level is at 355.2″ 

That's 12″ (1 ft of water) in 10 days which is normal
While there were signs of early spring, winter returned in the last 5 days, we got some fresh snow and open/slushy water froze over again
How Am I Feeling?
Hopeful but not convinced we're out of the water!
I'm the data nerd constantly comparing accuweather to the weather network in the month ahead, and now obsessed with wind gust
I'm the realtor who lives in my truck this time of year anyhow so whats a few more minutes up and down another lakeside road to get glimpses of a melting lake wherever I can (fyi the bracebridge river into muskoka is open on the backside of McVittie and flowing fast but there were guys kitesurfing off Boyds beach yesterday so still solid out there).
I'm the chic whose constantly polling all builders as to how much ice is left on the docks of their job sites (we've got a range of 6″ to almost 2ft depending).
I'm the first person who DOES NOT want to be talking about Lake Muskoka flooding every again, but I'm also the person who is genuinely looking for my own interest and sharing my findings with my fellow cottagers
The bottom line …
Cross your fingers,  hope for sunshine and gradually warmer temperatures.  I'm monitoring the situation closely and will update the numbers here as I can.  For regular updates however best to follow along on Instagram or Facebook and more likely tune into my midnight stories LOL #neverfails
PS If you're new to cottaging or flooding and want to see the destruction of 2019 I wrote about them on our building site back in 2019 here or here